Fairfield County Commercial Painting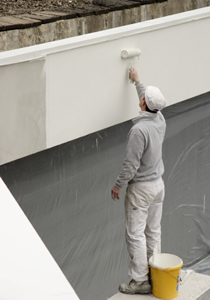 From the vice president's office to the warehouse, including truck bays, Wright Painting and Remodeling can do it all from spraying out ceilings to painting the tallest of walls. Our commercial structure care capabilities range from decorative to utility, functional and maintenance painting.
Wright Painting and Remodeling knows that as a business owner, your time is your livelihood. So, when you start considering making improvements to your commercial structure, you want experts who offer dependability, an eye for detail, and the ability to do the job right the first time. When you choose Wright Painting and Remodeling, you can rest easy. From conceptualization to final touch-ups, we're the premier experts in the region for commercial painting.
Because we understand the special considerations of business owners, the experts at Wright Painting and Remodeling are at your beck and call. Whether you're looking for someone to refresh your existing look, or to maintain the work you've already had done on your buildings, we can do the job in off-hours. We'll minimize disruption to your clients and employees by finishing the job in a timely manner and taking special care to keep walkways open by maintaining a clean work site. In fact, you'll enjoy the best in customer service and quality work - all at a competitive price. Put your trust in the professional Fairfield County painting contractor that has over 30 years of experience as a commercial painter - call Wright Painting and Remodeling for commercial structure care today!
Our Fairfield County Commercial Painting Contractors Provide These Services
Commercial Painting
Commercial Exterior Painting
Commercial Interior Painting
Office Painting
Painting Touch-ups
Industrial Painting
Interior Painting
Exterior Painting
Building Restoration
Painting Services
Wall Painting
Commercial Painters
We Provide Commercial Painting Services in the following areas:
Westport, CT | Weston, CT | Greenwich, CT | Darien, CT | New Canaan, CT | Cos Cob, CT | Riverside, CT | Old Greenwich, CT | Fairfield, CT | Southport, CT | Wilton, CT
Why Fairfield County Should Hire Us for Their Commercial Painting
It's been shown that a fresh coat of paint can dramatically improve the image of a business. New paint has a reputation of attracting anyone who sees it, including potential customers and clients. If your commercial property in Fairfield County is due for an interior or exterior paint job, the commercial painting experts at Wright Painting and Remodeling today. Our commercial painters will ensure that your company looks professional and attractive with our our quality workmanship and thorough commercial structure care services.
If you are in need of quality painting services for your business, contact the Fairfield County commercial painting contractors at Wright Painting and Remodeling. We'll help your business stand out from the rest with our commercial painting services!
Recent Articles about Commercial Painting
10 QUESTIONS TO ASK YOUR FAIRFIELD COUNTY COMMERCIAL PAINTING CONTRACTOR - Before painting your Fairfield County office space, here are ten questions you should ask the Fairfield County commercial painting contractor you plan to hire for the job: Are the Fairfield County commercial painters fully insured? Painters will say they are fully insured to get the contract. Make sure they provide a certificate of Liability Insurance ... [Read more]
FAIRFIELD COUNTY COMMERCIAL PAINTING: COLOR AND DESIGN IN THE WORKPLACE - Can the choice of color have an effect on the productivity of employees? What about warm color being used as a tool to enhance the comfort level of employees? Can certain colors promote harmony stability and yes, even camaraderie? Which colors will promote clear fresh thinking, creativity and planning? Are there any colors that can ... [Read more]
If you are looking for a Fairfield County Commercial Painting services then please call (203) 221-9005 or complete our online request form.