Fairfield County Wallpaper Removal & Installation SErvices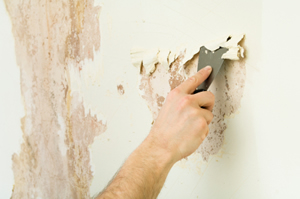 Old wallpaper can date a house, not coordinating with today's styles. At Wright Painting and Remodeling we have the knowledge and equipment to remove unsightly wallpaper and give your walls an immediate update.
Don't suffer through the frustration and possible damages that removing wallpaper using do-it-yourself tactics can cause. Contact the Fairfield County wallpaper removal experts at Wright Painting and Remodeling instead. At Wright Painting and Remodeling, we have the skills to remove even the toughest and oldest wallpaper. Our team of professional Fairfield County wallpaper removal experts also have the tools necessary to protect the wall underneath the wallpaper to ensure it is not damaged during the process.
Or, if you are looking to install new wallpaper to your home's interior, you can rest assured that our Fairfield County wallpaper experts and interior designers have the experience, knowledge and tools needed to provide you with a clean installation that brings life and beauty to your walls. 
Our Fairfield County Wallpaper Removal Contractors Provide These Services
Wallpaper Removal
Wallpaper Installation
Wallpaper
Removing Wallpaper
Painting Services
Interior Painting
Interior Paint
Wall Repairs
Wall Coverings
Removing Old Wallpaper
Border Wallpaper
Installing Wallpaper
We Provide Wallpaper Removal Services in the following areas:
Westport, CT | Weston, CT | Greenwich, CT | Darien, CT | New Canaan, CT | Cos Cob, CT | Riverside, CT | Old Greenwich, CT | Fairfield, CT | Southport, CT | Wilton, CT
Why Fairfield County Should Hire Us for Their Wallpaper Removal
Removing and installing wallpaper takes a certain set of skills and expertise to accomplish correctly, and at Wright Painting and Remodeling, we are the professional Fairfield County painting contractor you can rely on to get the job done with quality results. Our company has provided wallpaper installation and removal services to residential and commercial property owners throughout Connecticut for over 30 years, giving us a competitive edge in the market due to our extensive experience with wall coverings. Our quality approach to solving problems that may arise during the wallpaper removal process is based on our extensive experience, ensuring your project is completed successfully and without delay.
Our ongoing investment in equipment, scaffolding, and personnel lifts makes a difficult wallpaper removal job easy to accomplish, and in a safe manner. Our team of Fairfield County wallpaper experts provide a clean, courteous, and professional work environment, so you can take peace of mind in the quality of service we provide. We strive to improve our performance in order to provide the level of service our customers have come to expect with our wallpaper installation and removal services. Quality craftsmanship, blended with excellent customer service, is the foundation of our business, and we take pride in our good customer relations at Wright Painting and Remodeling. Call us today to schedule service.
Recent Articles about Wallpaper Removal
If you are looking for a Fairfield County wallpaper removal and installation services then please call (203) 221-9005 or complete our online request form.