Fairfield County Exterior Painting
House Painting Services for Vinyl and Aluminum Siding Exteriors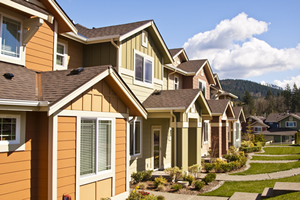 At Wright Painting and Remodeling, we can give your exterior siding a new coat of paint. With proper preparation, the look will last as long as the factory finish.
When it comes to your home's exterior, you want to be sure your new coat of paint can survive hot summers and cold winters in Fairfield County without blistering, cracking or peeling, and that it will properly seal your home's interior from moisture, mildew, and other damaging environmental factors. Whether you have vinyl siding or aluminum siding, our team of Fairfield County exterior painting contractors can ensure that your new finish is both beautiful and durable. We have the equipment and skills to produce a long lasting, quality finish for your exterior siding that will both protect your home and increase the property value and appeal.
Our Fairfield County Exterior Painting Contractors Provide These Services
Exterior Painting
Painting Siding
Painting Aluminum Siding
Painting Vinyl Siding
Exterior Paint
House Painting
House Painters
Exterior Paint Colors
Painting Services
Exterior House Paint
Painting Wood Siding
Home Exterior Paint
We Provide Exterior Painting Services in the following areas:
Westport, CT | Weston, CT | Greenwich, CT | Darien, CT | New Canaan, CT | Cos Cob, CT | Riverside, CT | Old Greenwich, CT | Fairfield, CT | Southport, CT | Wilton, CT
Why Fairfield County Should Hire Us for Their Exterior Painting
As a professional Fairfield County painting contractor, Wright Painting and Remodeling has been providing exterior painting services to homeowners throughout Connecticut for over 30 years. We have the skills and equipment to ensure your Fairfield exterior painting project is successful and finished in an efficient and professional manner.
Our team of Fairfield County house painting experts provide a clean, courteous, and professional work environment. We strive to improve our performance in order to provide the level of service our customers have come to expect with our exterior painting service. Quality craftsmanship, blended with excellent customer service, is the foundation for good customer relations, and we take that to heart at Wright Painting and Remodeling. Call us today to schedule your exterior painting services.
Recent Articles about Exterior Painting
If you are looking for a Fairfield County exterior painting services then please call (203) 221-9005 or complete our online request form.