Fairfield County Peeling Paint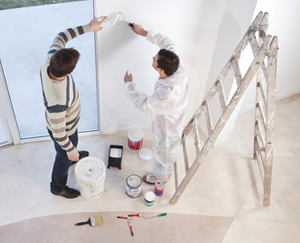 Is your home suffering from peeling paint? At Wright Painting and Remodeling, our team of expert Fairfield County painting contractors can remedy this unsightly, yet common problem.
Why Does Paint Peel?
Paints and coatings are specially formulated liquid compounds that are designed to provide certain protective aesthetic properties. The liquid becomes a solid film by evaporation, coalescence, or catalytic reaction. 
When paint loses its elasticity, it can't flex as the substrate (surface) expands or contracts. Moisture passing through a substrate such as wood can hasten the coating failure by breaking the bonds by which the paint attaches to the substrate. 
Peeling paint can be a symptom of other problems such as poor insulation, lack of vapor barrier or improper venting. Excess moisture is often the cause of damaged paint jobs and peeling paint in Fairfield County. Showering, cooking, and humidifiers are all contributors to moisture indoors that could be causing your interior paint to peel. Be sure to check the ventilation in your bathroom and kitchen to make sure air is filtering properly. Also ensure that roof vents are working properly and releasing indoor air adequately.
In Fairfield County, exterior paint that is peeling can have many contributing factors outside of moisture, such as sun damage and season changes. Peeling paint can also be the sign of a poor paint job and lack of adequate house painting preparation. Exterior paint will peel without the correct house painting preparations, which includes surface cleaning and the application of primer.
Whatever the case may be for your home, you can rely on the expertise of Wright Painting and Remodeling to fix your Fairfield County peeling paint problems, whether it is the interior paint or the exterior paint of your Fairfield County home.
Our Fairfield County Peeling Paint Contractors Provide These Detailed Services
Fix Peeling Paint
Solutions for Paint Peeling Off
Peeling Paint Repair
Peeling Paint in Bathrooms
Ceiling Paint Peeling
Fix Chipped Paint
Paint Repairs
Painting Services
Interior Painting
Exterior Painting
House Paint
Peeling Paint
We Provide Peeling Paint Services in the following areas:
Westport, CT | Weston, CT | Greenwich, CT | Darien, CT | New Canaan, CT | Cos Cob, CT | Riverside, CT | Old Greenwich, CT | Fairfield, CT | Southport, CT | Wilton, CT
Why Fairfield County Should Hire Us for Their Peeling Paint
At Wright Painting and Remodeling, we are the Fairfield County painting contractor you can trust for quality results. With over 30 years of experience providing residential painting services to homeowners throughout Fairfield County, Wright Painting and Remodeling offers a quality approach to solving problems that may arise with your interior and exterior paint, including peeling paint.
You can rely on our Fairfield County painting experts to address your peeling paint issues and fix them efficiently and as permanently as possible. We offer quality peeling paint repair services that will get your home back on track and looking beautiful again in no time. Call today to schedule services. No job is too big or small for us!
Recent Articles about Peeling Paint
If you are looking for a Fairfield County peeling paint repairs then please call (203) 221-9005 or complete our online request form.