Fairfield County Paint Selection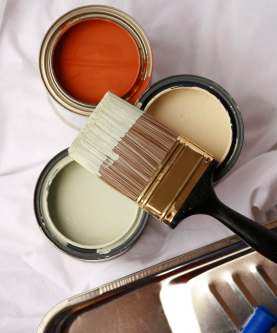 It's a colorful world out there – how can you possibly choose what paints to use for your Fairfield County house painting project? Easy: contact the experts at Wright Painting and Remodeling. We'll help you select the appropriate sheen and type of paint for the job.
With all the interior and exterior paint selections out there, it's difficult to choose the right combination for your Fairfield County house painting project - not to mention you still have to decide on what colors to use! That's why at Wright Painting and Remodeling we provide our customers with access to professional design and color consultations to make selecting the colors you'll use for your interior or exterior painting project that much easier. Our Fairfield County paint selection team can also help you decide which finish will work best for your project. From flat paints to low sheen paint, high gloss paints and more, we'll help you with your Fairfield County paint selection process that ensures you get top quality results and a long lasting finish.
Services Our Fairfield County Paint Selection Contractors Offer
Paint Selection
Painting Ideas
Color Schemes
Paint Colors
Interior Paints
Exterior Paints
House Paints
Paint Ideas
Paint Finishes
Color Palettes
Paint Color Schemes
Painting Finishes
We Provide Paint Selection Services in the following areas:
Westport, CT | Weston, CT | Greenwich, CT | Darien, CT | New Canaan, CT | Cos Cob, CT | Riverside, CT | Old Greenwich, CT | Fairfield, CT | Southport, CT | Wilton, CT
Why Fairfield County Should Hire Us for Their Paint Selection
From choosing color schemes to paint selection, Wright Painting and Remodeling is the professional Fairfield County painting contractor you can count on for top quality results and beautiful finishes. We have over 30 years of professional experience and knowledge in residential painting, and you can rest assured that our paint selection team will find the perfect combination of paint finishes and color schemes to use on your home.
The right type and color of paint in the right places can improve the beauty, value and enjoyment people gain from any home, turning it from ordinary to extraordinary. And at Wright Painting and Remodeling, we strive to do just that for you with our Fairfield county paint selection services. Contact us today for a wealth of painting ideas that are sure to get your house painting project going in the right direction.
Recent Articles about Paint Selection
FAIRFIELD COUNTY HOUSE PAINTING – LEARNING WHICH COLORS TO CHOOSE - In accomplishing a Fairfield County house painting task, to choose the right colors can be a tedious and daunting task all at the same time. The exterior paint of your house generally depends on the colors of the immediate environment that surround it, including your neighbor's house. But of course, you can still choose the ...[Read more]
FAIRFIELD COUNTY COMMERCIAL PAINTING: COLOR AND DESIGN IN THE WORKPLACE - Can the choice of color have an effect on the productivity of employees? What about warm color being used as a tool to enhance the comfort level of employees? Can certain colors promote harmony stability and yes, even camaraderie? Which colors will promote clear fresh thinking, creativity and planning? Are there any colors that can ... [Read more]
If you are looking for a Fairfield County paint selection then please call (203) 221-9005 or complete our online request form.