Fairfield County Paint Design & Color Consultation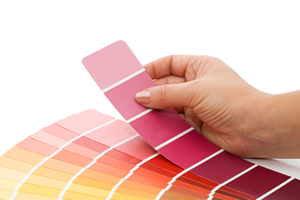 At Wright Painting and Remodeling, we offer color consultation and design ideas for the homeowner who wants to make improvements, but wants a designer's expertise. With the help of our Fairfield County paint design specialists, we can help you transform your interior or exterior painting project into an attractive finish that enhances the beauty and value of your home. From paint color selection to the design and application of the selected paints, you are sure to be impressed by the work of our Fairfield County paint designers.
Our expert Fairfield County painting design and color consultants have years of experience and knowledge of coordination tactics and style analysis that enable them to assess your house painting situation and provide you with innovative solutions that incorporate your preferences and design goals while infusing your painting project with creativity and innovation. You'll be amazed at the results our Fairfield County paint designers produce for your residential painting project.
You can count on the expertise of our Fairfield County paint design consultants to know what's trendy right now as well as what color selections and design elements will work best for your home. We know that color trends vary in different parts of the country, and our team can offer you a variety of painting ideas that are sure to infuse your home with style. Currently, warm honey and golden tones remain popular choices for Fairfield County painting designs, while various decorative plaster techniques are gaining interest. These are just a few of the design elements we can incorporate into your house painting project, with many more personalized options available.
Thinking of selling your home? Think fresh and clean! Our Fairfield County paint design experts know a warm neutral tone throughout gives a positive feel. They will help you refrain from deep, intense colors that may be trendy and turn off a percentage of buyers, ensuring that your house painting project helps you sell your home, not hinder it! Contact Wright Painting and Remodeling today to schedule your color and design consultation.
Services Our Fairfield County Paint Design Consultants Offer
Color Consultation
Paint Colors
Interior Design
Home Decorating Ideas
Painting Ideas
Color Schemes
Painting Designs
Interior Color
Exterior Paint
Interior Paint
House Painting
Paint Designs
We Provide Paint Design Services in the following areas:
Westport, CT | Weston, CT | Greenwich, CT | Darien, CT | New Canaan, CT | Cos Cob, CT | Riverside, CT | Old Greenwich, CT | Fairfield, CT | Southport, CT | Wilton, CT
Why Fairfield County Should Hire Us for Their Paint Design
At Wright Painting and Remodeling, we know the right color paint or wallpaper in the right places can improve the enjoyability of any home, turning it from ordinary to extraordinary. Our Fairfield county paint design and color consultation team have the expertise to provide you with a wealth of painting ideas that are sure to get your house painting project going in the right direction.
As a professional Fairfield County painting contractor with over 30 years of experience, Wright Painting and Remodeling is the name you can trust for quality results. We offer a quality approach to interior and exterior painting, from design to preparation to completion. You'll be amazed at the results our designers and painters produce for your house painting project. From selecting the appropriate paint colors that suit your style and design goals to building beautiful paint designs that really showcase the features of your home, Wright Painting and Remodeling is your go-to company for house painting solutions with a designer's edge. Contact us today for painting ideas and design advice to get your painting project started.
Recent Articles about Paint Design
FAIRFIELD COUNTY HOUSE PAINTING – LEARNING WHICH COLORS TO CHOOSE - In accomplishing a Fairfield County house painting task, to choose the right colors can be a tedious and daunting task all at the same time. The exterior paint of your house generally depends on the colors of the immediate environment that surround it, including your neighbor's house. But of course, you can still choose the ...[Read more]
FAIRFIELD COUNTY COMMERCIAL PAINTING: COLOR AND DESIGN IN THE WORKPLACE - Can the choice of color have an effect on the productivity of employees? What about warm color being used as a tool to enhance the comfort level of employees? Can certain colors promote harmony stability and yes, even camaraderie? Which colors will promote clear fresh thinking, creativity and planning? Are there any colors that can ... [Read more]
If you are looking for a Fairfield County paint design and color consultation then please call (203) 221-9005 or complete our online request form.