Fairfield County Basement Remodeling
House Painting Services for Vinyl and Aluminum Siding Exteriors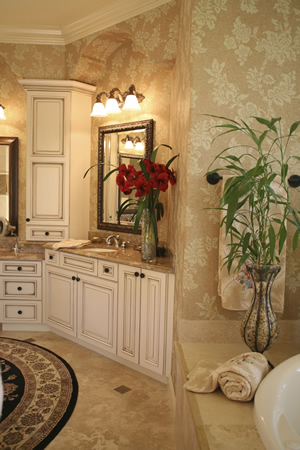 At Wright Painting and Remodeling, we can help you give a tired, well used bathroom an overhaul and help you redesign it to suit your needs.
From simple bathroom fixture updates to more complete renovations, you can rest assured that your Fairfield County bathroom remodeling project is in good hands with Wright Painting and Remodeling. Not sure where to start with your bathroom remodel? From design to construction, our team of expert Fairfield County bathroom remodeling contractors have several ideas that will transform your bathroom into a usable, attractive space that suits your style, needs and budget.
Fairfield County Bathroom Remodeling Ideas
A good way to bring a touch of style to a dated looking bathroom in Fairfield County is to invest in an attractive piece of furniture, such as new bathroom sink, a modern bathroom vanity or chic wall cabinet. Bathroom vanities and cabinets come in a wide range of beautiful styles including antique effect, chic, modern and contemporary, and can be used to great effect to influence the character of your bathroom.
Likewise, you may be surprised at the difference a fresh coat of paint or new faucets on your sink and bathtub can make. Shiny new faucets and other bathroom fixtures in stylish designs can instantly improve a bathroom's appearance. Replacing your bathtub or shower is another way to bring instant beauty to your bathroom remodel due to how much space these items take up. A well-chosen tub can become an attractive central feature of your Fairfield County bathroom's design. The same goes for a carefully planned paint design and wallpaper placement.
Our Fairfield County Bathroom Remodeling Contractors Provide These Services
Bathroom Remodeling
Bathroom Design
Bathroom Remodeling Ideas
Bathroom Painting
Bathroom Vanities
Bathroom Flooring
Bathroom Tile
Remodeling Bathrooms
Bathroom Fixtures
Plumbing
Bathroom Layouts
Bathroom Renovation
We Provide Bathroom Remodeling Services in the following areas:
Westport, CT | Weston, CT | Greenwich, CT | Darien, CT | New Canaan, CT | Cos Cob, CT | Riverside, CT | Old Greenwich, CT | Fairfield, CT | Southport, CT | Wilton, CT
Why Fairfield County Should Hire Us for Their Bathroom Remodeling
Let Wright Painting and Remodeling transform your bathroom into a beautiful and relaxing space that reflects your style with our expert bathroom remodeling services. Wright Painting and Remodeling is a professional Fairfield County painting contractor and remodeling expert that has been providing bathroom remodeling services to homeowners throughout Connecticut for over 30 years. We have the skills and equipment to ensure your Fairfield bathroom remodeling project is successful and finished in an efficient and professional manner.
Our team of Fairfield County bathroom remodeling experts provide a clean, courteous, and professional work environment. We strive to improve our performance in order to provide the level of service our customers have come to expect with our remodeling service. Quality craftsmanship, blended with excellent customer service, is the foundation for good customer relations, and we take that to heart at Wright Painting and Remodeling. Call us today to schedule your bathroom renovation services.
Recent Articles about Bathroom Remodeling
FAIRFIELD COUNTY BATHROOM REMODELING: SIX REASONS TO REMODEL A BATHROOM - Fairfield County bathroom remodeling is one of the most popular remodeling projects undertaken by homeowners in Fairfield County, CT. Bathrooms are important rooms in any home. Whether you are considering the addition of a bathroom or remodeling or enlarging an existing bathroom there are many good reasons to undertake a bathroom remodel. Here are six ... [Read more]
FAIRFIELD COUNTY BATHROOM REMODELING: SIX MORE REASONS TO REMODEL A BATHROOM - Among the many reasons given by homeowners for remodeling their Fairfield County bathrooms, these are six of the most common. To make a small bathroom seem larger.  There are many ways to make a bathroom seem larger by redecorating and remodeling.  Even if the bath cannot actually be made larger, it can be made to ... [Read more]
If you are looking for a Fairfield County bathroom remodeling services then please call (203) 221-9005 or complete our online request form.