About Our Fairfield County Painting Contractor: Wright Painting & Remodeling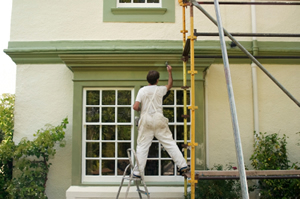 Wright Painting and Remodeling was founded in 1988 with a mission to build a professional painting and remodeling organization designed to meet the needs of our customers and the Community. We specialize in applying finishes of all types to residential and commercial property, as well as offering custom residential remodeling services. We are proud to have a long standing tradition built on trust and fine craftsmanship.
Why Hire Wright Painting and Remodeling?
Our proven painting system ensures quality results.
Our crew is committed to keeping your project clean and neat.
We focus on surface preparation, which is a determining factor in the 
service life of any paint job (on average preparation is 70% of the labor 
for a painting project).
We use high quality materials that are carefully applied by experienced 
professionals.
A completion inspection and follow-up call is performed with all projects 
to ensure your satisfaction.
We care about our customers and the work we do for them.
Wright Painting and Remodeling, your reliable and professional Fairfield County painting contractor, offers a variety of exterior and interior services including:
Painting
Power washing
Staining
Custom decorative painting
Wallpaper removal
Wall repair and preparation
Custom color creation
Wood roof preservation
Clear masonry sealer
Bathroom and basement remodeling
Siding and window installation
General carpentry
Our team of craftsman provide a clean, courteous, and professional work environment. We strive to improve our performance in order to provide the level of service our customers have come to expect. Quality craftsmanship, blended with excellent customer service, is the foundation for good customer relations.
No job is too big or too small for Wright Painting and Remodeling, the Fairfield County painting contractor you can rely on for quality results and exceptional customer service.
Professional Associations
To further serve you, we recognize the importance of constant communication within our industry. Through industry associations, Wright Painting and Remodeling both maintains current information on color trends, coatings, material and product upgrades along with customer service tips.
Our Professional Associations:
American Society of Interior Design (ASID)
Painting and Decorating Contractors of America (PDCA)
Home Builder and Remodelers Association
Our Partners
In addition, we work with the best product partners in the industry:
By partnering with these paint suppliers, Wright Painting and Remodeling provides the ideal paint for the individual job, ensuring a high quality, long-lasting finish.
Painting & Renovation Services We Provide
See What Customers in Fairfield County Are Saying About Us
"Your willingness to help us understand the total project and the explanation of choices was just what we were looking for in a contractor. I also wanted to compliment your crew on the consideration they showed during their stay. They were extremely polite, accomodationg, and their tidiness was noticeable."
- Erin & Bob Noonan, II in Westport, CT [Read More]
If you are looking for a Fairfield County painting contractor or restoration and remodeling services then please call (203) 221-9005 or complete our online request form.