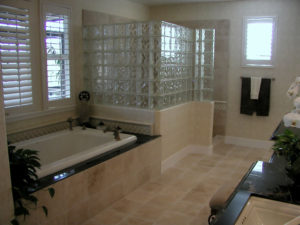 When you take on a bathroom remodeling project, you'll first need to think about what should change. Is the flooring old? Do the bathroom tiles need to be replaced? Would you rather have a different vanity? All this and more are important in the design plan for your new bathroom space.
Some bathroom remodeling projects only involve replacing a few key elements to update the room. While everything could be done, you can remodel the bathroom on a tighter budget. Replacing things like the mirror, a new light fixture, and painting will go a long way to updating the bathroom. But you'll want to think about replacing the old tile and installing a new vanity to make the project complete.
Here are some things to consider so you can have a beautiful space to enjoy and be proud of.
Floor Tiles & Wall Tiles For Bathrooms
Installing new bathroom tiles will make a huge difference for your bathroom makeover. There are so many new options in tile styles that will look great if you are remodeling your Westport home!
Tile flooring is wonderful to have in Fairfield County where we are consistently tracking in mud, snow, and dirty sleet into our homes. Carpeting is wonderful, but there's nothing like custom tile that's easily cleaned on a snowy or wet day. Plus, it can be so amazingly beautiful if designed right.
Replacing the bathroom tile may just mean you just want a change or that the tile is damaged so it needs to be taken care of. Though simple in concept, this is detailed work that takes the correct application of the right materials to do well.
Have you seen homes with obviously bad tile repair? The grout is wrong, the tiles don't stick or end up crooked, they don't lay as flat as the other tiles, or there are other serious problems. Tile needs to be laid precisely or they all get out of line. The adhesive materials need to be mixed and applied with expertise. And removing previous tile may be necessary.
Different installation techniques are involved for the different types of tile. For instance, the tiny glass tiles that are beautiful and very "in" right now have an incredible amount of grout areas to cover but it's so very easy to cover over the small squares of glass or to not put enough grout in between them. This results in unexpected holes where water seeps in wall behind. So great care has to be taken during the installation.
Bathroom Vanities
If the bathroom vanity will serve more than one person in your household, then it's probably a good idea to have a double sink vanity installed if there's space for it. You'll also want plenty of storage space for all of your grooming and bathing tools.
There are many vanities to choose from so you can choose any type of material you wish from solid wood to plywood or pressed wood. Birch, maple, poplar, oak, porcelain, and even metal can be great for a bathroom.
But with high humidity factors found in the bathroom, plywood or pressed wood options could have problems with shrinking and expanding. Let our design consultants offer you the perfect suggestions for your bathroom vanity and you'll have all the right materials to work with.
Bathroom Designs & Remodeling Service In Westport
Whether you have bathroom tiles or want to remodel everything in your bathroom, you need a Westport remodeling team that's skilled to handle your tile project. You can't trust the job to just any contractor who may not have the type of skill-set they should.
At Wright Painting and Remodeling, you'll have a team of professionals to help you with your bathroom remodeling project in every way. We have great teams for your renovation work and can handle all types of problems along the way.
Whether it's flooring or walls you're wanting to change (or even ceilings), we can help you find the right options for your bathroom space. You'll have access to our designer who can help you figure out and choose what features will look great in your new bathroom space.
If you are looking for a Fairfield County painting contractor then please call (203) 221-9005 or complete our online request form.