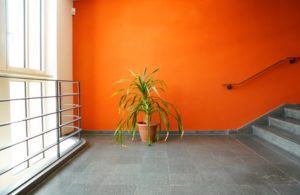 Reasonably so, some people wonder if it is necessary to hire a painting contractor to help them instead of painting themselves. There are many benefits to hiring a Fairfield County painting contractor that make sense. Whether you have new construction that needs to be painted or want to give a new look to an old place, you will always get better results from an expert than you can by doing it yourself -unless, of course, you too are an expert house painter.
The most common reason people claim that DIY painting is best is that they think it isn't economical to hire a professional. However, most of the time, they find out how expensive and time consuming it is for them to paint the house themselves. Once you truly consider the effort and time that goes into completing this project you begin to see how little savings there really is. Plus, you have to purchase all the supplies that can't even be used again for the next time. But, there are more reasons to hire a Fairfield County painting contractor.
The Professional Painting Advantages
So what are the advantages of hiring a professional to complete your home painting job?
Prep work and clean up – The major work of the job is not even the painting – it is the prep work and cleanup. In fact, the average preparation to painting takes about 70% of the labor involved. It must be done right to make sure the paint has good adherence and coverage and that there are no oversprays or messes left for the homeowner. Unfortunately, the homeowners who try to take on the project don't realize exactly how extensive the process is until they have already started. Many times, they get tired of it and don't do it. The prep work is vital to the quality of results you get.
Skills – It may not seem like a complex job until you try to take on the whole project yourself. When you see pictures in magazines or online of home interiors, those are jobs taken care of by an expert, not someone painting for the first time. Even on photos with articles that claim you can do it yourself, the work was done by a hired pro.
Quality tools and paint – You may not realize how much of the painting budget will go toward tools and supplies. What really stinks is that most of them are only useful for one painting job. If you are trying to cut corners and paint your own home, you are probably also going to skimp on the supplies and paint you buy. Makes sense since you are only doing this once. But the painting contractors you hire will already be fully equipped with ladders, various sizes and types of brushes, sprayers, drop cloths, caulks and sealants, wall and hole filler, wood putty, paint, tape, sandpaper, trimwork repair tools, rollers, paint trays, and everything else because they regularly paint homes.
Painting surprises and problems – Any type of surface problem has to be fixed before painting. That means old wallpaper removal, drywall repair, carpentry repair, and other surprises. A pro will know how to handle every problem and will do it efficiently.
Expert results – When you have a professional painter do the work for you, you should get quality results. There should be no paint spills, drips, or oversprays. The color should look great. And the results should last.
Finding A Painting Contractor In Fairfield County
Hopefully, by now you realize that it makes more sense to just let professionals take care of your painting job. The problem can be in finding someone you can trust that has the experience to do great work and doesn't treat you dishonestly.
Now it's time to learn who exactly to call on. At Wright Painting and Remodeling, we have been professionally painting since 1988. We can assure you that you are going to love the work we do and will be glad you decided to let our experts handle the job for you. We have a proven painting system that ensures you get quality results every time.
If you are looking for a Fairfield County painting contractor then please call (203) 221-9005 or complete our online request form.