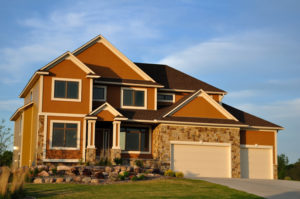 Passing by a house in Fairfield that looks really sharp is always a pleasure, and it sure catches the eye. This is one of the reasons we put so much thought into taking care of our home's exterior. Creating a welcoming aura for the home by painting is valuable in many ways. Not only is the exterior paint of a home affecting the curb appeal, it also has a significant waterproofing ability to protect the home. Let our Fairfield painting contractors here at Wright Painting & Remodeling give you some tips.
Exterior design is important for a business and a homeowner. It encapsulates so much of how we form opinions about the people who own it.
Being proud of our home is something that is rewarding in and of itself. The condition of your home's exterior reflects your tastes and commitment to keep up the beauty of the neighborhood. This is why painting is such an important part of keeping up with our homes.
Steps For Exterior Painting
There are many things that should be considered before starting to paint the exterior of your house. First, before anything else, you will want to decide whether or not to hire a professional painter. With their assistance, the project can go quickly and smoothly. Otherwise, you'll need plenty of time to accomplish your exterior painting.
Make sure you have the house power washed before starting the exterior painting. Paint doesn't adhere as well to surfaces coated with dirt and grime. This is an important step whether you are doing the work yourself or hiring a Fairfield painter.
Your next step will, of course, be to choose the color and kind of paint you want to cover your home. There are many paint products available, so this may seem like a daunting task. Just be sure you choose a quality paint that lasts as long as possible. Otherwise, you'll be doing the work all over again in a few short years. Believe it, the years can fly by.
Be sure you or your painting contractor takes measures to protect your landscape and hardscapes from paint spills. You don't want to see the exterior messed up or damaged.
Decisions On Exterior Paint Colors
If you need help choosing colors, a professional Fairfield painting contractor can make great suggestions.
Next, you'll need to think about the architectural features that you want to highlight. Do you have a certain style of home? You can highlight the charming aspects with alternative paint colors for the trim work. If you have exterior shutters, you can make them pop with a single color you're not using elsewhere. Do you have a great entry door? Make it stand out with a contrasting paint color.
Painting your home's exterior is an involved task that will bring delight and joy to you and your family. It gives your home a face-lift and revitalizes long since dulled colors. By breathing new life into your home's exterior with a professional paint job you can make the impression you want and represent your personal tastes more strongly.
If you have questions about Exterior Painting in Fairfield, please call Wright Painting & Remodeling at (203) 221-9005 or complete our online request form.
If you are looking for a Fairfield County painting contractor then please call (203) 221-9005 or complete our online request form.