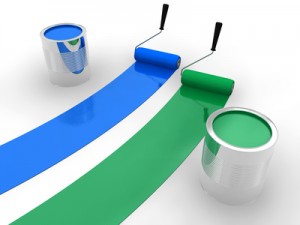 When it's time to paint the exterior of your home, you'll have to make a few decisions. You'll want to know how to hire the best contractor, how to choose the best colors for your wall, and what you can do before and after to protect your new paint job. So we've decided to help you out! We rounded up a few great resources that can help you understand more about exterior home painting and answer any of the questions you have–and maybe even some you didn't know you had!
If you still have any questions after reading these, feel free to call one of our Fairfield County house painting specialists. And don't hesitate to call for an appointment. We'll be looking forward to working with you.
New York Times: How to Clean Your Home's Exterior
This article from the New York Times was published in 1996, but they already knew everything they needed to about exterior home cleaning. They go over the importance of cleaning your home's exterior at least once a year, and they give you a simple guide to make getting the job done seem a lot less daunting. It's always important to make sure you have your exterior cleaned prior to painting. Otherwise, you're risking having your paint wear off, chip, or peel away prematurely.
The Family Handyman: How to Prepare for House Painting
If you're having your home painted soon, this article from The Family Handyman can help you make sure your home is ready for it. They cover everything in a short, step-by-step manner. Then there are sub-steps, accompanied by photographs and brief instructions. After that, there are in-depth descriptions and discussion about why and how you need to get this done. Making sure your home is properly prepared to be painted will ensure that the paint job is able to be as high quality as possible, and that it will last as long as possible before wearing away.
How Stuff Works: Paint Colors to Help Sell Your Home
If you're having your home painted in an attempt to help sell it, then this article from How Stuff Works is just what you need. Actually, even if you're not selling your home, it's an interesting read. You might find it interesting even if you're not painting your home! How Stuff Works is known for its exploration of interesting scientific, cultural, and social topics in fun ways, and this article definitely gets points for being interesting and fun. It won't bore you death, and you'll learn a lot about which colors help sell homes and why.
The Weather Channel and Home Depot: How Does Weather Affect Exterior Painting?
This article from the Weather Channel and Home Depot can help you decide when it's best to paint, what type of paint to use, and give you some other helpful hints for how to paint with the weather and climate in mind.
If you are looking for a Fairfield County painting contractor then please call (203) 221-9005 or complete our online request form.