Welcome to WRight Painting & Remodeling: a Southport Painting Contractor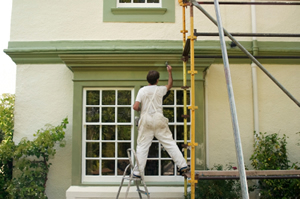 Founded in 1988, Wright Painting and Remodeling is a professional Southport painting contractor and renovation specialist dedicated to the professional painting, restoration, and renovation for a variety of properties. From Southport bathroom remodeling to specialized painting finishes and maintenance for commercial properties, our well-trained team of craftsmen have the skills, experience and tools to complete your project professionally and efficiently.
At Wright Painting and Remodeling we can revitalize your property with our complete Southport building restoration services. From painting and chemical cleaning to complete remodeling and renovation, Wright Painting and Remodeling is the Southport painting contractor and renovation expert you can count on to help! We've extensively studied historic color schemes at the Campbell Center for Preservation Studies (Galena, IL), so you're guaranteed a finish that's historically accurate. Contact us today to schedule your Southport painting services or remodeling and renovation work.
Wright Painting & Remodeling - Southport Bathroom Remodeling
Aside from skillful painting services, Wright Painting and Remodeling also provides quality residential and commercial remodeling services. Looking to remodel your Southport bathroom? Give our expert Southport bathroom remodeling contractors a call! We'll help you transform your bathroom into a luxurious and relaxing place that you will enjoy for years to come.
A good way to bring a touch of style to a tired looking bathroom is to add an attractive piece of furniture, such as sink vanity or a new wall cabinet which we can install for you during your Southport bathroom remodeling project. These things are relatively straightforward to fit or replace, and can help give your bathroom a fresh new image without the expense and hassle of replacing all your fixtures and fittings. Bathroom vanities and cabinets come in a range of beautiful designs, including antique effect, country style and contemporary, and can be used to great effect to influence the character of your Southport bathroom.
If you want to give your bathroom a makeover without blowing your budget, there are a number of things you could consider while planning your Southport bathroom remodeling project. For example, you may be surprised at the difference new faucets on your sink and tub can make. Shiny new faucets in a stylish design can instantly improve a bathroom's appearance, without the need to install a whole new bathroom suite. Another way to cut costs when remodeling, is to just replace your bathtub, leaving the sink and toilet in place. Bathtubs take up the most space in our bathrooms, and a well-chosen tub can become an attractive central feature of your bathroom's design.
For more Southport bathroom remodeling ideas, contact our remodeling experts at Wright Painting and Remodeling today. You won't be disappointed.
Southport Renovation Contractor
Whether you want to makeover your home or your business, Wright Painting and Remodeling is the Southport renovation contractor and painting specialist you can count on to transform your "canvas" into something spectacular. We are skilled in all aspects of residential and commercial painting, restoration and remodelling. Whatever you need, we've got you covered, from wallpaper removal and installation to wood floor refinishing. Best of all, our ongoing investment in equipment, scaffolding, and personnel lifts makes a difficult renovation job easy to accomplish, and in a safe manner. Contact Wright Painting and Remodeling, your reliable Southport renovation contractor, today for all of your home renovation, remodeling and restoration services.

Southport Painting Contractor
Southport Renovation Contractor
Wood Floor Refinishing
Painting Services
Bathroom Remodeling
Basement Remodeling
Commercial Painting
House Painting
Wood Staining
Restoration
Home Renovation
Wallpaper Removal
Southport Painting Services
Painting your Southport home is one of the best ways to add value to your home. This is true even if you are putting on the same color as before. Keep in mind, using paint of a good quality can make a surface more abrasion-resistant, easier to clean and capable of washing without the risk of removing the paint.
If you are a Southport homeowner with painting problems that are demanding your attention, don't miss an opportunity to incorporate a Southport painting contractor that will not only make your home more beautiful as well as add value. Whether you are building a new home or refurbishing your own piece of history, a professional paint job provides years of value and satisfaction. It brings out the architectural details in your Southport home, protects it from the elements, and creates a positive atmosphere that enriches your everyday life.
Wright Painting and Remodeling specializes in custom residential interior and exterior painting in Southport, CT. We have satisfied hundreds of Southport homeowners with our professional Southport painting services and skillful staff of painters. We take the time to educate every client, presenting them with all information about our company and our painting skills, offering design and color consultation services in order to help beautify their homes. Contact us today to schedule your Southport painting services.
The Services We Provide in Southport, CT
We Proudly Serve
Westport, CT | Weston, CT | Greenwich, CT | Darien, CT | New Canaan, CT | Cos Cob, CT | Riverside, CT | Old Greenwich, CT | Fairfield, CT | Southport, CT | Wilton, CT
Recent Articles
If you are looking for a professional Southport painting contractor then please call (203) 221-9005 or complete our online request form.